La Gelati Michigan is a family-owned and operated business, established in 2013 by its owners and founders Yousef Khalaf, Hussein Saad, and Zeinab Cherkaoui. Known for its delicious ice cream, crepes, waffles, smoothies, shakes, drinks, and more, La Gelati has taken Michigan by storm with its constant innovation and delicious treats.
La Gelati Michigan came from a strong passion for sweets and the desire to bring the best of Europe's taste to every sweet tooth in North America. We set foot in Dearborn Heights and the creativity began in our small kitchen. For La Gelati Michigan, this was only the beginning of what was planned for a full-on franchise. The La Gelati Michigan concept grew from its original crepes, waffles, and homemade ice cream menu to the highly demanded shakes and fruity smoothies. But that wasn't enough, customers were loving it, so we tossed and planned the next big thing: the Redbull boba. La Gelati Michigan was turning heads from traditional doughnut shops and classic French pastry stores to the new and creative – our customers were loving it. And that's why we named La Gelati Michigan after you: the Factory of Happiness.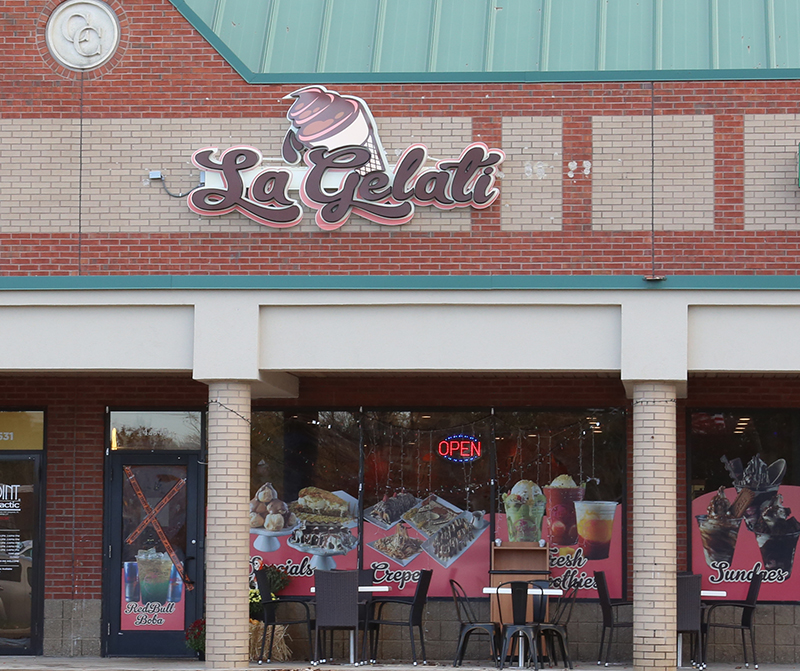 Who's the La Gelati Customer?
The La Gelati ambiance is for everyone, without exception. With an innovative menu with European ideas and our own signature-founded products, we ensure our quality sweets supersede what's out there. But we said 'everyone' and that includes our diet friends. If you're looking for something on the healthy end, we carry non-sugar ice cream and multiple fruit options like our delicious Acai bowl. We want everyone to enjoy the La Gelati experience, kids, parents, and even grandparents!
Oh yes, we do! La Gelati Michigan caters for all kinds of occasions. We cater for engagements, weddings, birthday parties, you name it! And we're not limited to a single menu item or two, we can customize until we please your eyes. Our La Gelati ice cream, sushi crepes, macarons, and boba drinks are typically the highest in demand for events but check our full menu or reach out to us for more details.
La Gelati isn't merely in a single location, it's in six, and counting! We couldn't settle for a single place knowing the Factory of Happiness was desired in other places too, so we expanded our operation to cities and areas we know are your favorite. La Gelati Michigan is currently located at the following locations:
·         25442 Ford Rd, Dearborn Heights, MI 48127
·         6901 Schaefer Rd, Dearborn, MI 48126
·         22001 Michigan Ave, Dearborn, MI 48124
·         42545 Ford Rd, Canton, MI 48187
·         15444 North Haggerty Rd, Plymouth, MI 48170
·         Sterling Heights TBD
Our Favorite Time of the Year
We're basically like you. We love holidays. We love family. And most importantly, we love treats. With the holidays just around the corner, we're putting the holidays into our menu with twists and turns, sprinkles and jingles, and surprises and prizes at every La Gelati Michigan location. If you're in for the holiday spirit and want to enjoy some sweet family fun or are for a delicious treat with some friends, we're here for you! 
With delivery services in high demand, La Gelati's where you are. DoorDash, UberEats, and GrubHub delivery services have brought our highly-demanded products to homes and offices near each of our locations. Customers can order online at lagelatusa.com or through the La Gelati app or through any of the delivery service platforms. If you want to see us on the inside, visit your nearest La Gelati Michigan store and dine in!