La Gelati Dearborn Heights
La Gelati Dearborn Heights is where it all started. It's the cream of the crop and our version of the snack-crackle-pop. La Gelati began in 2017 as a family-owned and operated business on Ford road between Kinmore and Gulley, running its operations from a small kitchen, a big heart, and a massive dream. La Gelati Dearborn Heights was a story of humble beginnings, owners working long shifts, trying out different recipes, and planning for what was a dream for rocket-soaring success. Customers were coming in from Dearborn Heights, Canton, Westland, Garden City, Livonia, Dearborn, and other nearby cities – they liked it!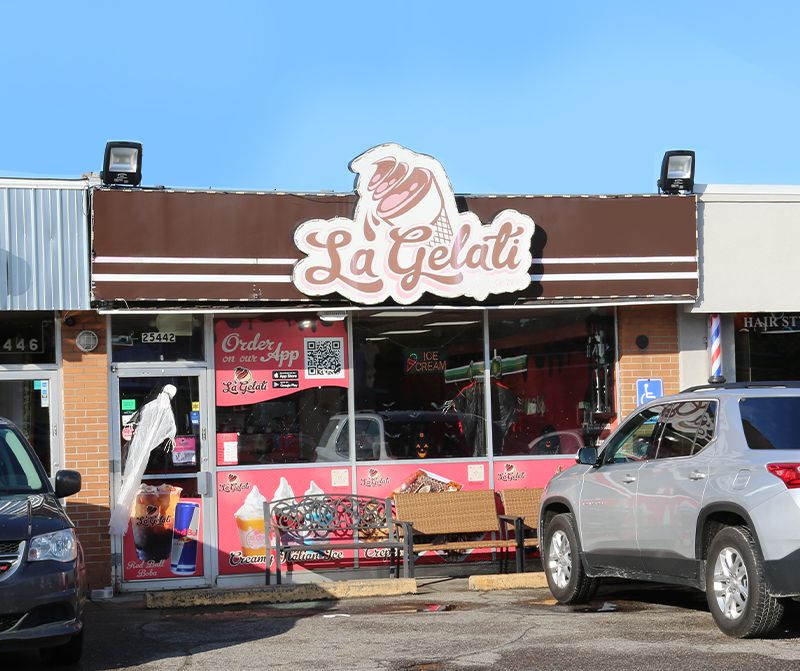 The menu was growing and so was our customer base. We asked ourselves "what now?". And it hit us, let's go franchise with this! From La Gelati Dearborn Heights we travelled toward an area in demand, Dearborn, and that was when we climbed to the top. For years now, La Gelati has become one of the best sweet shops in Michigan. 
La Gelati is about you. Our customers before anything. We built our brand on your smiles and we plan on keeping it that way! La Gelati Dearborn Heights taught us patience, it taught us perseverance, listening to our customers, putting effort into our products, and focusing on what we believe is the grand prize: happy people.
What Do You Know About Ice Cream & Gelato?
Generally speaking, ice cream Dearborn Heights wholesale refers to the business of supplying ice cream products to retail outlets in bulk quantities. That being, La Gelati Dearborn Heights is proud to supply its fellow companies with the best ice cream Dearborn Heights has yet to experience. La Gelati Dearborn Heights typically purchases large quantities of ice cream Dearborn Heights and other frozen desserts in Dearborn Heights such as sorbet, gelato, and frozen yogurt.  
Are You Looking for the Most Delicious Smoothie You Have EVER Tasted?
La Gelati Dearborn Heights is your place to go. It's not going to be your typical blended drink—La Gelati Dearborn Heights is known for its exquisite and innovative fresh smoothies Dearborn Heights has ever had. We carefully choose our ingredients in terms of good taste and freshness, thus whipping up truly unique flavors of fresh smoothies. Dearborn Heights makes La Gelati grow as its customers are sincere when it comes to dropping by La Gelati Dearborn Heights for a good smoothie without even giving second thoughts.  
With an innovative menu with European ideas and our own signature-founded products, we ensure our quality sweets supersede what's out there, so that La Gelati satisfies your cravings. Yup, that includes our diet friends. Customers looking for diet-friendly options can check out our sugar-free ice cream Dearborn Heights and other fruit options like our delicious Acai bowl. Not to mention the fresh smoothies Dearborn Heights is known for, which are found at La Gelati Dearborn Heights, and no other. And last but not least, customer service is just as important as the menu. We put effort into easing your experience, making it fun, and ensuring the La Gelati team is drawing a smile on your face. 
La Gelati Dearborn Heights is merely a single location, but we have another five, and counting! We couldn't settle for a single place knowing the Factory of Happiness was desired in other places too, so we expanded our operation to cities and areas we know are your favorite. La Gelati Michigan is currently located at the following locations: 
25442 Ford Rd, Dearborn Heights, MI 48127
6901 Schaefer Rd, Dearborn, MI 48126
22001 Michigan Ave, Dearborn, MI 48124
42545 Ford Rd, Canton, MI 48187
15444 North Haggerty Rd, Plymouth, MI 48170
Sterling Heights TBD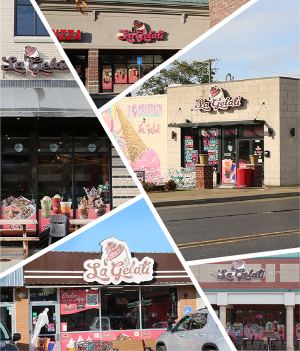 With delivery services in high demand, La Gelati's where you are. DoorDash, UberEats, and GrubHub delivery services have brought our highly-demanded products to homes and offices near each of our locations. Customers can order online at lagelatusa.com or through the La Gelati app or through any of the delivery service platforms. If you want to see us on the inside, visit your nearest La Gelati store and dine in!